If you've noticed your eyes watering a bit looking at the price of Monaco Grand Prix tickets you might have wondered, is there any way to see F1 in Monaco without a ticket?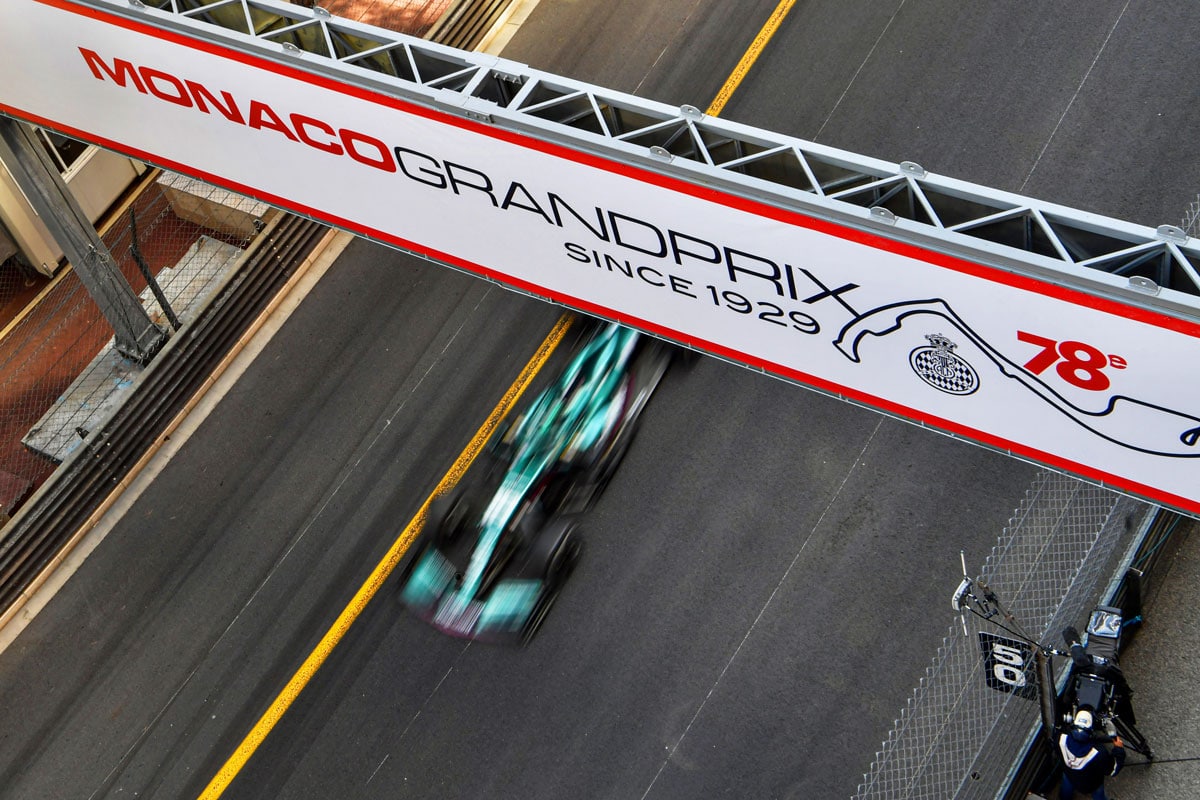 One year I was in Monaco on a Thursday to pick up an invite for that weekend's Amber Lounge Fashion Show. As I didn't have track tickets for Thursday I decided to see if it was possible to see some of the F1 action for free.
Unlike modern, purpose-designed tracks, the Monaco Grand Prix is held on a street circuit that's older than Formula 1 itself. With the rising, amphitheatre-like topography and maze of little streets, you'd be forgiven for thinking they can't possibly block out every view of the track. It turns out they do a pretty good job of it.
Monaco has one of the highest police per capita of any country in the world, and while it won't be the local bobbies that stand between you and a free view of the circuit, it should be no surprise that security is tight. Come race weekend measures are in place to stop people without a ticket from getting a free view of the track. Screen fencing is put up to block visibility and the port area is heavily restricted.
That said there are some spots around Monaco where you can sometimes get a split-second glimpse of some brightly painted carbon fibre. I would add one important caveat though: for anyone serious about seeing F1 at Monaco, these views are just not going to do it for you. If you're really into F1 and are spending your time and money travelling to Monaco you should check out some of the best grandstand or general admission views.
But if you're a casual fan or happen in be in Monaco when the Grand Prix is on and want to see what all the fuss is about, then these vantage points are worth a look. If nothing else you'll be able to say you've seen a Formula 1 car on the world's most iconic race track.
Where to Watch the Monaco Grand Prix for Free
1. Rampe de la Major
From Rampe de la Major – the winding pedestrian walkway leading up to the Palais you can sometimes get a glimpse of the track in the Rascasse / Anthoney Noghes section. Access this from Ave de la Port Neuve.
2. Across the Port
Once up the hill, take a stroll along Ave. des Pins to the bend where the road doubles back on itself above Fort Antoine Gardens and back down Ave. de la Port Neuve. There are several vantage points around here where a distant view of the track can be had across the port. Bring binoculars!
3. Avenue de la Costa
A small street running almost parallel to the track – when it's not blocked you can see the cars as they make their way up the hill from Saint Devote to Mirabeau. You see the side and rear of the cars, but only for an instant.
4. Rue Princess Caroline
Most visitors to the Grand Prix will find themselves on Rue Princess Caroline at some point during the weekend. This is one of the main hubs for merchandise stalls and has its fair share of bars, cafes and eateries. At the end of the street nearest the track (let your ears guide you), turn right. Follow the path up some steps that lead to the corner of Rue de Milo and Rue Saige.
On the way, look behind you and you'll catch a glimpse of the cars on the main straight. It's not worth going out of your way to find but as it's fairly central you might well want to check it out.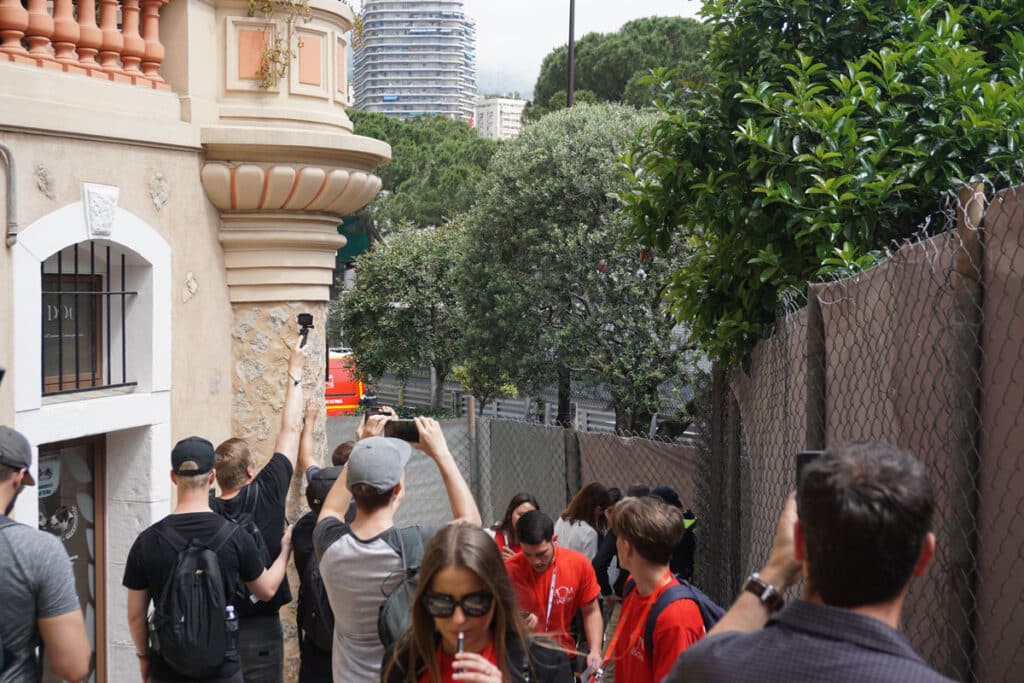 5. Garre de Monaco
Another spot you're likely to be close to at some point is just outside Monaco's train station. Head to level 2 and out the front of the station, down some steps to a terrace that overlooks the Church of St. Devote. From here you can see a slither of track that is the corner of the same name. If anyone has an off here as someone almost always does, you're going to see it.
6. Avenue de Suisse
This is one of the best free views I found, even if it is a bit distant. Along Avenue de Suisse, look for a gap between the buildings where some steps (Escalier des Gaumates) lead down to Avenue de la Costa. From here and some other nearby vantage points – look for small groups of spectators – you can get a clear view of the second swimming pool chicane.
7. Place d'Armes
OK, this last one is kind of cheating because you're not actually seeing the cars in the flesh but on a screen. But it is one of the best places to watch the Monaco Grand Prix for free if you don't have a ticket.
There are numerous bars and cafes all over the principality where you can watch live coverage of the race but perhaps this is the best spot. At this plaza which also hosts the Fan Zone, there are giant screens that show all sessions. Only a couple of blocks from the main straight the audio is very much live and it has the atmosphere to boot.
Keep in mind that these free views are by no means guaranteed – things change and what works for one spectator one year might not work for you this year. Likewise, the list is by no means exhaustive. With a little scouting around and exploring by yourself, you may discover new places to view the Monaco Grand Prix for free.
If none of these options get your pistons firing, you might be surprised how inexpensive Monaco F1 tickets can be. For under €50 you can buy tickets for La Rocher on Friday and enjoy a much better view.
I'm Danny, an incurable Formula 1 fan for over 30 years and founder of The F1 Spectator. My aim is to inform and inspire, arming you with helpful tips and advice for your next F1 trip.