Spanish Grand Prix Travel Guide
Plan
Your
Spanish
Grand Prix
Circuit de Catalunya
Montmelo
Just outside of Barcelona, the Circuit de Catalunya has hosted the Spanish Grand Prix since 1991. Since Valencia's withdrawal, it is now Spain's only Formula 1 race, and a big event on Spain's sporting calendar.
After years of lacklustre interest in F1, Spanish enthusiasm reached a crescendo when a young Fernando Alonso was one of the most exciting talents in the paddock.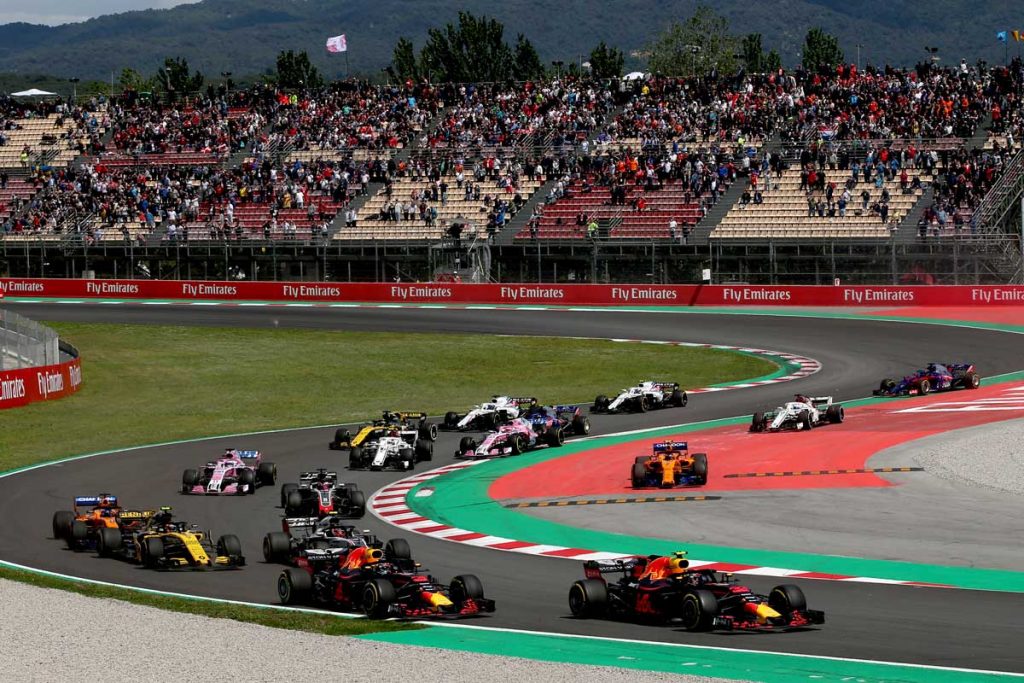 The Spaniard introduced many new fans to the sport and packed the Circuit de Catalunya with a passionate crowd. One of those new fans was Carlos Sainz and in a resurgent Ferrari team, he looks set to take Fernando's baton well into the future.
The circuit has gained a bit of a reputation for turning out some dull races. It's where winter testing takes place so teams have their setups well and truly dialled in. It's not unusual for cars to line up for the grid two by two and see little change by the chequered flag.
There are plenty of examples to the contrary though and however the race is there are so many things to love about this race track. Watching on TV and at the track are vastly different and many fans would choose Spain over such classics as Spa, Monza or Silverstone.
And for good reason. The track is beautifully designed for spectators, allowing wide, sweeping views of multiple corners. From the grandstands, it has more in common with modern Herman Tilke circuits than traditional European venues. As those tracks largely exist in Asia and the Americas, Spain has one of the best Grand Prix in Europe for pure spectatability.
Add to that an almost 100% chance of sunshine and a world-class city in Barcelona, and you have the makings of an excellent Formula 1 venue.
Spanish Grand Prix F1 Spectator Tips
The sun is strong at this time of year. If you're not used to it always keep this in mind, from selecting seats to packing for the day.
Food and drink inside is expensive and unimpressive. Provided you're not taking in glass or cans you should have no problem taking in refreshments from the local supermarket in Montmelo.
Dashing off to the train station at the fall of the chequered flag is a sure way to spend a long period of time waiting in line. Instead, enjoy a walk on the circuit or a post race drink at one of the local bars.
Watching Pre-Season Testing in Montmelo
Most years, F1 teams have come together at the Circuit de Catalunya to give their new challengers a shake down in winter testing. Fans can visit the circuit during this time and it's a good way to get to know the circuit, see which grandstands you like, as well as see the F1 stars in their cars for very little moolah.
Winter testing is usually in February and tickets can be purchased here.
Essentials
Weather & Climate
Montmelo Weather
Free practice: scorchio. Qualifying: scorchio. Race: scorchio. And for anyone unfamiliar with The Fast Show, see above. Bono estente.
I'm Danny, an incurable Formula 1 fan for over 30 years and founder of The F1 Spectator. My aim is to inform and inspire, arming you with helpful tips and advice for your next F1 trip.